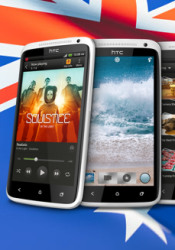 SIM-free and unlocked HTC One XL is now available in Australia. Currently, Oz residents can only purchase the black version for AU$850 (€660). It will work on every GSM carrier in Australia and on Telstra's LTE network.
In case you are thinking of importing one over, you'd be glad to find out that the HTC One XL supports the needed European GSM and 3G bands as well. There's even support for some of the upcoming LTE networks in Europe working on the 2600MHz band.
HTC One XL is similar to the One X we already reviewed, save for the chipset. The One XL uses a Snapdragon S4 MSM8960 SoC with a 1.5GHz dual-core Krait CPU and Adreno 225 GPU. The NVIDIA's quad-core Tegra 3 does not offer native LTE support, which caused the chipset swap.
This makes Australia the second country to get a Krait-powered One X after the US, whereAT&T offers it. We already covered its chipset performance and found that it's often doing better than the Tegra 3 in the One X.
In fact we are currently putting the final touches to our HTC One X for AT&T review. It should go live later tonight so stick around if you want to learn more about it.
This post sponsored by:

Dr Mobiles Limited

1 Huron Street,
Takapuna, North Shore 0622

Tel: (09) 551-5344 and
Mob: (021) 264-0000

Web

-

Map - Google+ - Email

-

Posterous - Tumblr -

Twitter

-

Blogger

-

Flickr -
Author