The nano-SIM standard became official just this year and all rumors suggests the next-gen iPhone to be the first device using it.
Just like the micro-SIM slot used for the first time in the iPhone 4, the nano-SIM just feels right for the next iPhone.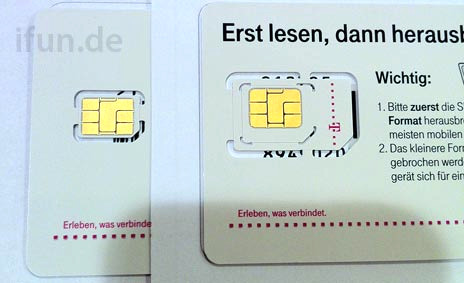 With the iPhone 5 launch closing, the carriers are getting ready for its new slot. As you can see, T-Mobile is stocking up on nano-SIM cards for the "latest generation of smartphones that come in the near future" (translated). T-Mobile also instructed its staff not to give out these cards to customers yet.
So, the next iPhone will supposedly have a new SIM slot, a new connectivity port, new headphones, and new screen aspect ratio. The next iPhone seems to be dropping out everything Apple has relied on these years, and yet again replacing it with its own proprietary solutions.
This post sponsored by:
Dr Mobiles Limited
(
Map
)
1 Huron Street,
Takapuna, North Shore
0622
Tel: (09) 551-5344 and
Mob: (021) 264-0000
Web

-

Map - Google+ - Email

-

Posterous - Tumblr

Twitter

-

Blogger

-

Flick -
Author