Google used its I/O 2012 conference in San Francisco to unveil the latest release of Android. Carrying the version number 4.1, the new Android Jelly Bean is supposed to come as more of a polish to Ice Cream Sandwich, than a major game changer.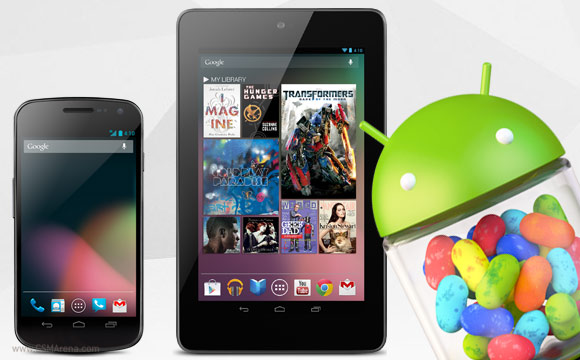 Don't think for a second though, that Jelly Bean doesn't have anything interesting to offer. On the contrary - the latest Android version brings a truckload of new features, and should help noticeably improve the overall user experience. Here goes the full breakdown:
Android 4.1 Jelly Bean changelog:
Project Butter has brought smoother and faster feeling user interface

Improved notification center with expandable and actionable notifications

Updated widget behavior

Improved camera and gallery apps for easy photo snapping and sharing

Improved keyboard behavior with with word prediction

Added Accessibility options with support for external Braille input

Enhanced Android Beam allowing transfer of photos and video

Offline Voice recognition and typing

Google Voice search is more intelligent than ever

Updated Google Search user interface

Google Now adds automatic information feeds to your device (weather, traffic, sports, etc)

Bi-Directional text and additional language support

Truly high-resolution contact photos

USB audio output and HDMI multichannel audio output

App encryption and Smart App updates
The list might not be too long, but Android ICS was arguably the most feature-rich platform already, so major changes were hardly required. With Android easily the most popular mobile OS out there, Jelly Bean's task is to solidify its lead by polishing the user experience.
The Project Butter sounds like a great start, but it's certainly not the only trick up Jelly Bean's sleeve. The revamped notification center, the updated widgets and the new natural language searches should really make a difference to end users, while the improved Android SDK and extended API support should keep developers happy.
The question remains if every feature on the list work as advertised, so let's not waste any more time and start testing them out.

User interface
Android 4.1 Jelly Bean sticks to the foundation laid by Ice Cream Sandwich more than half a year ago. There are very few visual user interface changes, but some cool added functionality. Of course, as with every previous Android release, the bootscreen animation has also been updated.
Project Butter
Project Butter is Google's answer to the oft-criticized Android user interface stutters and is probably the most important new feature of Android Jelly Bean. Cool animations have been an integral part of Android for quite some time now, but the problem was that they weren't always perfectly smooth. Even really powerful smartphones and tablets were guilty of the lagging occasionally and it was about time Google did something about it.
In fact, Google has worked so hard on these performance optimizations that it even borrowed the services of a high-speed RED camera to record the improvements throughout the UI. Check it out.
To get the interface so fluid and smooth, Google has made Jelly Bean's UI run at 60 frames per second where the hardware allows it. Since software engineers didn't stop there, they also added triple buffering (CPU, GPU and display working in parallel, not waiting in turns).
Finally, there's the feature called Touch responsiveness, which makes your phone anticipate and predict where your finger will be on the screen next and preloads any animations it might need to display when you start touching the screen.
The result, as you saw in the video above is an interface you can safely call "smooth as butter".
Lockscreen
The lockscreen for example is altered and now shows a large dotted circle around the center-placed unlock button. You still the two familiar shortcuts - move the unlock button to the left for camera, and right for unlock. There's a new, third icon above them for jumping to Google Voice Search.
We still feel Google isn't utilizing the lockscreen to its fullest, though. A small weather widget would've come in handy, or even a short calendar snippet showing the upcoming appointments. We've seen those in some of the custom launchers, but it would be great if they were backed into the OS itself.
Enhanced notification center
One of the best bits about Jelly Bean is its revamped notification center. It features a redesigned clock and date icons on the top left followed by a larger settings icon. The clear notifications icon has also been refreshed and it looks much sharper now.
The updates here don't end with the looks, either. Select app notifications have gotten really smart, not only delivering you the notification, but also providing you with several options for interaction.
For example, you can snooze a reminder for an upcoming meeting or email its guests right from the notification area. This is quite convenient, saving you a few seconds from the time you'd normally spend tapping your way through the app to get the same thing done.
Next, you can answer or hang up a call right from the notification blind. Yes, this feature was present in previous Android releases too, but now it's icons have been redesigned don't feel out of place.
Finally, starting with Jelly Bean, you can view photos shared with you on Google+ or even read your incoming messages without even having to enter the Messaging app.
Resizable and self-aware app widgets
Ice Cream Sandwich introduced resizable widgets, and they have been further improved in Android 4.1 Jelly Bean. With the latest release of the Google OS widgets will automatically adjust their size to fit on the screen where you'd want to put.
This means that if you place a widget in an icon-congested screen, the widget will contract to fit in whatever gap is available for it. Also, if you drag one widget on top of the other, it will make space for itself by forcing the icons underneath to rearrange.

Synthetic benchmarks
We ran some benchmarks on the Samsung Galaxy Nexus running Android 4.1 Jelly Bean. It's important to point out that we're using the same version that was used at the Google I/O demo and that's powering the Nexus phones they handed out to attendees, but even so it's not a finalized build (but it's very close).
The first thing we noticed is that CPU performance seems to have degraded a bit - both in BenchmarkPi and in Linpack, which test single- and multi-threaded performance respectively.
None of the changes in Jelly Bean sound like they should negatively impact CPU performance, so this could be the result of some debugging-related processes eating up precious system resources.
Benchmark Pi
HTC One X (Snapdragon S4)

279

HTC One S

306

HTC One X (Tegra 3)

338

Samsung Galaxy S III

344

Huawei Ascend P1

351

Samsung Galaxy Nexus (ICS)

408

Samsung Galaxy Nexus (JB)

447

Samsung Galaxy S II

452

Sony Xperia S

536

Sony Xperia P

539

HTC Sensation XE

583
Linpack
HTC One S

210

HTC One X (Snapdragon S4)

196

Samsung Galaxy S III

177.1

HTC One X (Tegra 3)

126.1

Huawei Ascend P1

97.0

Sony Xperia S

86.4

Samsung Galaxy S II

77.6

Samsung Galaxy Nexus (ICS)

77.1

Sony Xperia P

66.9

Samsung Galaxy Nexus (JB)

63.7

HTC Sensation XE

50.4
NenaMark 2 is an important test - we weren't quite sure which way it will go, but as turned out it went up. The Galaxy Nexus saw a nearly 20% increase in framerate after the update.
Project Butter brings a number of improvements to Android aimed at making the user interface smoother and more responsive. It seems that 3D gaming performance has gone up too.
NenaMark 2
HTC One S

60.5

Samsung Galaxy S III

58.8

Samsung Galaxy S II

51.6

HTC One X (Snapdragon S4)

49.1

HTC One X (Tegra 3)

47.5

Sony Xperia S

37.5

Huawei Ascend P1

36.7

Sony Xperia P

29.9

Samsung Galaxy Nexus (JB)

28.7

Samsung Galaxy Nexus (ICS)

24

HTC Sensation XE

23
Google updated the browser for Jelly Bean. Note that we're talking about the standard Android browser and not Chrome, which is going to be the default browser on the upcoming Nexus 7 tablet.
The updated JavaScript engine shaved off a few milliseconds from the SunSpider test. The Galaxy Nexus is now faster than a Krait-packing HTC One S, a Tegra 3-based HTC One X and even the new Apple iPad.
SunSpider
Samsung Galaxy S III

1447

Samsung Galaxy Nexus (JB)

1626

HTC One S

1708

New Apple iPad

1722

HTC One X (Tegra 3)

1757

HTC One X (Snapdragon S4)

1834

Huawei Ascend P1

1840

Samsung Galaxy S II

1849

Samsung Galaxy Nexus (ICS)

1863

Apple iPhone 4S (iOS 5.1)

2217

Sony Xperia S

2587

Sony Xperia P

2784

HTC Sensation XE

4404
The BrowerMark score went up a notch too, but the difference isn't all that great here. It's likely just the improvement in the JavaScript portions of the benchmark.
BrowserMark
Samsung Galaxy S III

169811

Huawei Ascend P1

127532

Samsung Galaxy Nexus (JB)

115613

Samsung Galaxy S II

111853

Samsung Galaxy Nexus (ICS)

103591

New Apple iPad

103264

HTC One S

98435

HTC One X (Tegra 3)

96803

HTC One X (Snapdragon S4)

92232

Apple iPhone 4S

88725

Sony Xperia S

74990

HTC Sensation XE

72498

Sony Xperia P

72237
When the finalized version of Jelly Bean comes out, we'll re-run the tests and hopefully the CPU performance should bounce back. The improved 3D and web browsing performance is quite welcome though and it means that browsing the web on Android will become an even cooler experience.

This post sponsored by:
Dr Mobiles Limited
1 Huron Street,
Takapuna, North Shore 0622
Tel: (09) 551-5344 and
Mob: (021) 264-0000
Web

-

Map - Google+ - Email

-

Posterous - Tumblr -

Twitter

-

Blogger

-

Flickr -
Author