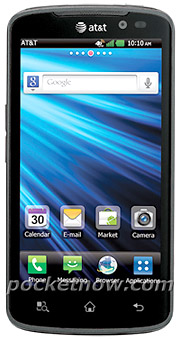 First official photo of the LG Nitro HD just surfaced. Actually, the device isn't completely new, as it's merely the US version of the LG Optimus LTE with a fancy name heading to AT&T some time soon.
As its name suggests, the Nitro HD will sport a 1280x720 pixel 4.5-inch HD-IPS LCD screen. A 1.5GHz dual-core Scorpion processor on a Snapdragon chipset and 1GB of RAM should do the heavy lifting under the hood. The specs get even better with the 8MP camera with LED flash at the back and 4GB memory, which is expandable thanks to the microSD card slot.
The Nitro HD will be launched on AT&T's new 4G LTE network and will be taking on the Verizon's upcoming Galaxy Nexus and HTC Rezoundduo. There's no word on pricing and availability just yet, but we suspect it's just around the corner as the holiday season is fast approaching and AT&T has no time to waste.
This post is sponsored by:
Dr Mobiles Limited
1 Huron Street, Takapuna
Auckland 0622
www.drmobiles.co.nz
Tel: (09) 551-5344
Uploaded via iPhone 4
Note:
We are the only professional repair centre who DOES NOT charge inspection fees on faulty phones.
> 1 hour iPhone 4 repair
> Repair while you wait
> Free 30 min parking
> Free loan phone