Introduction
You wouldn't call Sony's first foray in tablets a sweeping success. Last year the company released its first two droid slates and, while they were both eccentric enough to get everyone's attention, none of them was really fit to survive in a crowded and highly competitive market.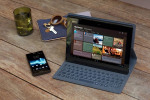 Sony Xperia Tablet S official photos
It seems though that Sony are quick learners. The Xperia Tablet S has kept the catchy folded magazine design, and lost fat around the waist while enjoying a processing power boost, that should let it catch up with the competition.
Key features
9.4" 16M-color PLS TFT capacitive touchscreen of WXGA resolution (1280 x 800 pixels); Sony Mobile BRAVIA Engine and oleophobic coating

1.3 GHz quad-core Cortex-A9 CPU, ULP GeForce GPU, 1GB RAM, Tegra 3 chipset

Android 4.0.4 Ice Cream Sandwich

Quad-band GPRS/EDGE and quad-band 3G with HSPA connectivity (HSDPA, 21 Mbps; HSUPA, 5.76 Mbps)

16/32/64 GB of built-in memory

8 MP autofocus camera

1MP front-facing camera; native video calls

1080p HD video recording @ 30 fps with stereo audio

Wi-Fi 802.11 a/b/g/n Wi-Fi Direct, dual-band, Wi-Fi hotspot

Stereo Bluetooth v3.0

TV-out (adapter required), USB host (adapter required)

SD card slot

Standard 3.5 mm audio jack

Infrared port

GPS with A-GPS support; digital compass

1080p MKV and SD XviD/Divx video support

Accelerometer and proximity sensor; three-axis Gyroscope sensor

6,000 mAh battery

Guest Mode for multi-user access

Splash proof
Main disadvantages
Below-par screen resolution

Proprietary connector for charging and connectivity

Poor outdoor visibility

Peculiar design favors portrait hold, top-heavy in landscape

Splash resistance issues
There's no 1080p screen or Jelly Bean here, but Tegra 3, a BRAVIA-powered WXGA and Ice Cream sandwich still give the Sony Xperia Tablet S good fighting chances in its price range. The metal design should help get the attention of those tired of plastic devices, and there are some nice home-baked software tweaks such as guest mode and remote app.



The Sony Xperia Tablet S studio shots
The splash-resistance of the Xperia Tablet S is a nice touch as well, although given the most recent turn of events it probably won't be as much of a selling point. Still, Sony has produced a well-equipped tablet that should offer snappy performance, the unmatched versatility of Android and cool looks. Now who wouldn't want some of that?
We still need to take a closer look and see how the cool sounding specs translate into real-life performance. As usual we'll start with the hardware right after the break.

Design and build quality
The Sony Xperia Tablet S measures 239.8 x 174.4 x 8.8 mm, which makes it notably more compact than its closest rivals in terms of specs and price - the Asus Transformer Pad TF300T (263 x 180.8 x 9.9mm) and the Acer Iconia Tab A510 (259.1 x 175.3 x 10.2 mm). At 570g it's also way easier to carry and operate without support for your hands than the other two (the Asus slate weighs 635g, while the Acer tips the scales at 680g).

Sony Xperia Tablet S held in hand
However, there are two things to consider here - the Sony Xperia Tablet S BRAVIA screen is of the rather unorthodox size of 9.4", as opposed the 10.1" LCD on the other two. The 15% difference in screen estate doesn't put the Xperia Tablet S in a new category, but is still big enough to be evident in everyday usage.
Also, the folded magazine design brings the thickness of the tablet at the top end to 11.9mm. This one is actually much less of an issue as the tablet is as slim as promised for the lower two-thirds of its body and that's where your hands sit most of the time anyway. The extra depth makes the tablet top-heavy though, which is something to consider. On the other hand, the folded bit provides excellent grip in portrait orientation.
Overall, we think the Sony Xperia Tablet S easier to wield and carry than just about every 10" tablet, but still not light enough to be considered much more than a couch device. Prolonged use is guaranteed to tire your hands and you'll be looking for a place to rest against in a matter of minutes, despite the lowered weight.
As for the design - Sony like to joke that the folded-magazine styling is lawsuit-proof. We've heard that one on at least two separate occasions and it's one of those things that don't usually sound as good the second time around. The last thing you would want anyway is have lawyers tell the designers what to do.
To be clear, we don't think this was the case here. Sony just likes to point out that their R&D department came up with something that looks vastly different from anything on the market and yet still works. Okay, maybe not vastly different, after all there's only so many ways to do a glass front panel with a huge screen in the middle, but the back is instantly recognizable.


The folded magazine design is pretty nice
And while making an impression is one thing, making a good impression is a whole other story. Luckily Sony has nailed that one too and we quite like the Sony Xperia Tablet S. The folded bit at the back even enables easier (and more secure) attaching of carrying cases like the official cover that Sony sells as an optional accessory.
The only part of the design we are not too sure about is the fact that the folded piece is made of black textured plastic, while the rest of the back panel is smooth aluminum and the two don't go too well together. We are not saying it's bad, but there's certainly room for improvement.
Controls and display
The front panel of the Sony Xperia Tablet S is dominated by the 9.4" BRAVIA-powered display of WXGA resolution. The screen tends to be pretty reflective, which leads to rather poor sunlight legibility, but has pretty good image quality indoors.
The contrast and colors are good and the screen is reasonably sharp. It doesn't come anywhere close to the 1080p screens out there and the iPad 3 Retina, but it's doing fairly well for within the WXGA category.
Display test

50% brightness

100% brightness

Black, cd/m2
White, cd/m2

Contrast ratio

Black, cd/m2
White, cd/m2

Contrast ratio

Sony Xperia Tablet S

0.35

334

947

0.67

526

783

Apple iPad 2

0.18

167

925

0.55

429

775

Apple iPad 3

0.21

167

809

0.6

477

779

Samsung Galaxy Tab 7.7

0

200

∞

0

328

∞

Asus Google Nexus 7

0.25

244

954

0.36

327

908

Samsung Galaxy Note 10.1

0.27

223

832

0.49

406

821

Samsung Galaxy Tab 10.1

0.31

257

826

0.55

502

915

HTC Flyer

0.18

169

921

0.41

409

1002

Huawei MediaPad

0.19

223

1149

0.35

396

1117

Samsung Galaxy Tab 7.0 Plus

0.17

196

1141

0.34

424

1236
We were also able to put the display under our digital microscope for a closer look at the pixels. Check it out: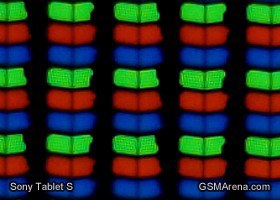 The display under a microscope
The 1MP front-facing camera is located in the center above the display, when you hold the tablet in landscape mode. Alongside it is the ambient light sensor, which enables automatic screen adjustment.
The power/screen lock button is located on the right side of the Sony Xperia Tablet S, next to the volume rocker.


The power key and the volume rocker sit on the right
At the other end we find the SD card slot, which is hidden under a small plastic flap and the 3.5mm audio jack. You read that right - the Sony Xperia Tablet S features a full size SD slot, rather than one of the microSD variety.


The 3.5mm audio jack is next to the SD card slot
On one hand this allows for even cheaper memory expansion, but on the other hand this means that you can't simply insert the microSD card from your smartphone in your tablet. You can simply have an adapter pre-inserted in the slot to solve this issue, though.
The fold of the Xperia Tablet S on top is deprived of any functional elements, while at the bottom you get the stereo speakers and the Sony proprietary connector. Yet another proprietary connector is hardly great news and we really hope Android manufacturers will finally follow Google's lead with the Nexus 7 and start putting microUSB ports on their tablets.

The stereo speakers and the proprietary jack at the bottom
We conclude our hardware tour at the back, where we find the 8 megapixel camera lens. There's no flash here, so don't expect to get any kind of usable shots in low-light conditions, but since tablets (let alone 10-inchers) are by far not the most comfortable devices for taking photos we won't be deducing any points here.

The 8 megapixel camera lens
Underneath the metal back panel sits a 6000 mAh battery, which Sony says is capable of lasting for up to 12 hours of usage on a single charge. The number sounds quite good, but since we didn't get to spend enough time with the slate we are unable to confirm if it's achievable in real life.
It's now time we move on the Sony Xperia Tablet S user interface. Sony has backed in some interesting tricks in the Android 4.0 ICS interface and we'll not get to see if those work as advertised..

This post is sponsored by

:





Dr Mobiles Limited (

Map

)




1, Huron Street, Takapuna, Auckland 0622




Tel: (09) 551-5344, Mob: (021) 264-0000




info(a)drmobiles.co.nz


Facebook

-

Blogger

-

Twitter

-

Tumblr

-

Google+



New Lynn Branch (

Map

):




3069, Great North Road, New Lynn, 0622




Tel: (09) 5555-344, Mob: (021) 374-007




sales(a)drmobiles.co.nz